Share highs, lows & "God Sightings"
What made you happy or joyful or hopeful this week?
What made you sad or uneasy or uncomfortable this week?
Where/how did you see God working this week?
Read the weekly Bible verse/story
Read together Luke 10:25-37, The Parable of the Good Samaritan

We encourage everyone to open up their own Bibles;

highlight

or underline things that stand out to you and write notes or questions in the margins.
There is a full Bible on our church app; look for it on the menu that runs long the top (android) or bottom (apple) of your phone or tablet.

Then, read the key verse, Luke 10:27, together:

"Love the Lord your God with all your heart and with all your soul and with all your strength and with all your mind, and love your neighbor as yourself."
Talk about the weekly Bible verse/story
When have you been like the victim in the parable--scared, hurt, and helpless? Who was your Good Samaritan?
When have you been like the priest or Levite in the story, finding it easier to ignore someone who needs help? Why was it hard to help someone in need?
When have you been like the Good Samaritan? What made you want to help someone in need?
Who is your neighbor?
Pray your highs & lows
Pray any way that works for your family. Here are some ideas:

Squeeze prayer; one person starts. When they're finished squeeze the hand of the next person and they can share a prayer or pass it on.
Hold hands and pray for the person on your left ("I pray for [name], I'm glad [___] made them happy this week. I pray God is with [name] when they are feeling sad because of [___].
Have one person pray for everyone.
Popcorn prayer: one person says a quick opening, then others "pop in" with single words of things they want to pray for (i.e. "friends", "doctors", "health", etc.)
Say the Five Finger Prayer (image below)
Say the Lord's Prayer together.
Bless each other
Go in a circle and put the sign of the cross on the hand or forehead of the person next to you while saying a blessing. Here are some blessing options:

"God bless you, [name]"
"Jesus (God) loves you and so do I"
"God bless you, [name], child of God"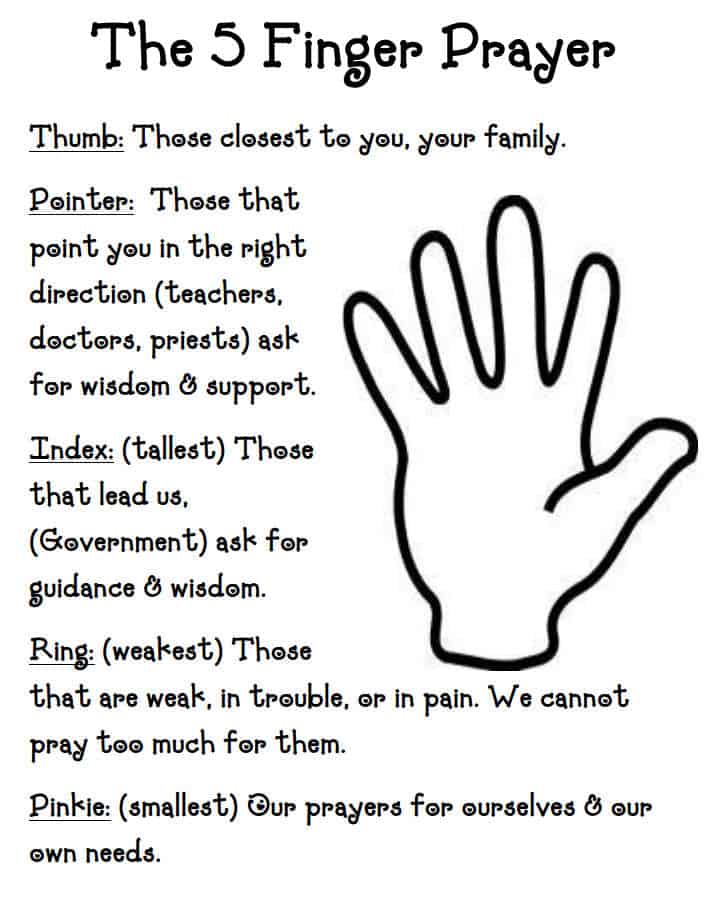 Want more?
At home worship outline with prayers, scripture, & reflection options
Creative offering ideas
Faith Formation Ideas for the home
Coloring Page
Daily Scripture using the Faith 5 format
Daily Faith Practices Ideas
Hymns to was your hands to
Prayer Bingo